One on One Yoga Therapy + Movement Sessions
Individualized attention focusing on your specific goals.
These sessions are tailored to your specific goals and circumstances and may draw from a variety of breath, yoga posture, movement, strength, meditation, relaxation and other yoga therapy practices to meet your objectives for our work together.  Working one on one can be beneficial if you're seeking yoga therapy to help with something specific (e.g., pain, injury recovery, pelvic floor function, aniety management), prefer one on one instruction over attending a group class, or struggle with learning new movements and want personal support as you develop greater awareness, and increased strength & mobility.
Sessions include follow-up personalized program by email that provides guidance on what to do in between sessions (and may include audio and video practices).
Available in-person (Yellowknife) or online via Zoom (from anywhere in the world).
Pricing
First Session (75-90 mins.): $150
Regular Session (60 mins): $125
5 Sessions: $575 ($115/session) *includes 75-90m first session when booked together
30-min Follow-up (existing clients only): $65
New clients can book a free 15-minute Zoom consultation call
For online studio members only:
20-min Zoom Call & personalized class schedule: $95
– Discuss what you want to focus on that month & your available practice time
– Jenn will design you a program & schedule for the month (you'll get a PDF calendar with links to specific classes in your program)
Pricing is in Canadian currency & does not include the 5% tax (GST).
CONTACT JENN TO BOOK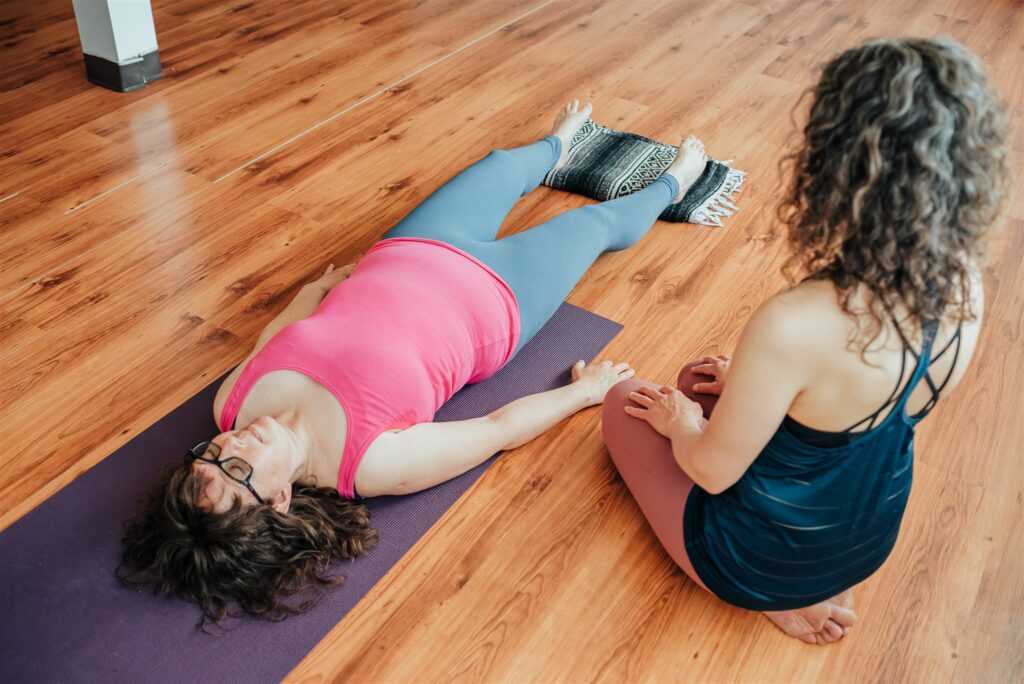 What to Expect
Your first session will take between 75-90 minutes, and will include a discussion of your objectives for our work together, and an assessment of where you are starting from. Prior to this session you will be asked to fill out an intake form that identifies your goals and your relevant health history. After our discussion and assessment, I'll guide you through appropriate yoga practices, mobility & strength exercises and other targeted practices for you.
Subsequent sessions are 60 minutes and will include further refining or deepening the practices and exercises tailored for you, assessing your progress, and revisiting your objectives as necessary.
Those with a greater ability to practice outside of our sessions together, often find booking once every 2 weeks is sufficient.  Those with less ability to practice on their own, usually find 1-2 sessions/week works better.  While everyone is on their own personal path and timeline, a common experience is to give this approach at least 4-6 weeks to see significant changes, although it is not uncommon to experience something noticeable during the first session.
Your Role

When we start our work together we review your goals and your commitment to practice in between sessions.  If you are seeking one on one sessions as dedicated time for self care & relaxation, or as a regular private yoga class instead of a group class, it may not be necessary for you to practice at home in between sessions unless you would like to incorporate that into your plan.  I will always provide a personalized program for you and when there is opportunity to incorporate beneficial practices into your lifestyle, I'll provide relevant suggestions for you.
Alternatively, if you are booking yoga therapy or movement education sessions to address a specific concern (e.g., sciatica, pelvic pain, incontinence, disturbed sleep, managing anxiety, strength goal, or step-by-step approach to learning how to do certain movements or yoga postures), your commitment to practice in between sessions will help you progress towards your goals.  We will discuss the time you have available and what to prioritize within that time – there are many ways to structure this within your week that make it both possible and enjoyable and do not add to your to-do list. 
With yoga therapy, you are an active participant as you develop a deeper sense of self-awareness, a greater understanding of practices that work for your recovery or progress, and increased confidence and self-efficacy. 

"I saw Jenn for private sessions for hip and leg pain I'd been dealing with for years. I tried physiotherapy and chiropractors but Jenn was the only one who was able to help me finally get back to being consistently pain-free and feeling strong and confident in my body again."
More Information About Private Yoga & Yoga Therapy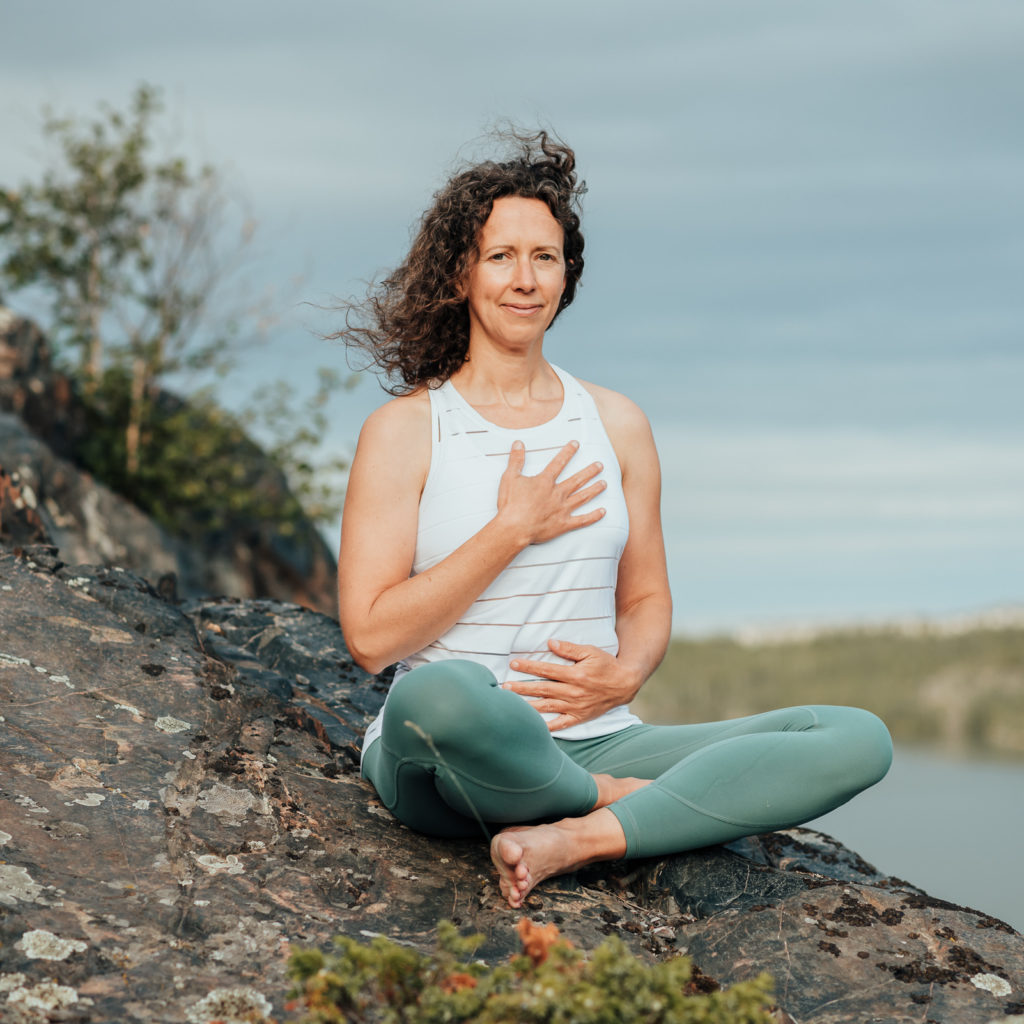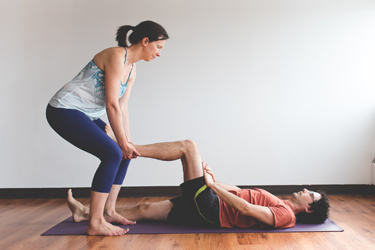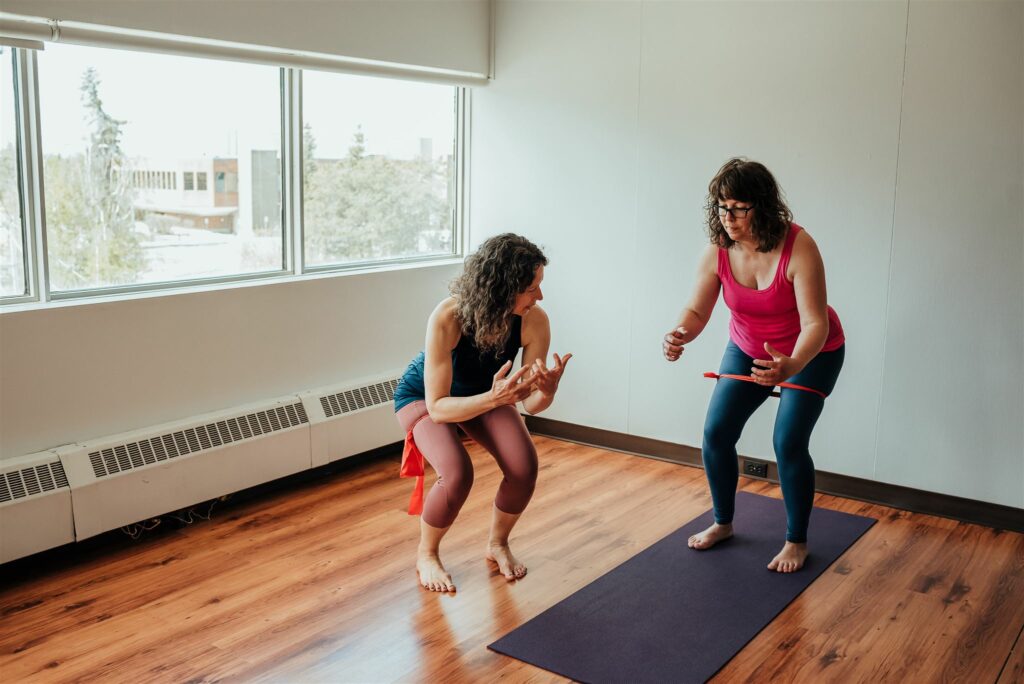 Jenn specializes in:
Foot, Knee & Hip Pain
Strength, Mobility, & Flexibility Training
Pelvic Organ Prolapse, Incontinence
Low Back & Pelvic Pain
Anxiety & Stress Management & Self-Regulation Techniques
Improved Alignment and Awareness of Movement Blindspots
Hypermobility & Improving Strength, Stability & Coordination
Tight Muscles & Joint Stiffness
Shoulder Pain
Prenatal & Postnatal Yoga & Pregnancy-related Pain
Injury Recovery
Balance & Fall Prevention for Elders/Seniors
Foot Health & Walking Mechanics
Restorative Yoga, Pain Care Yoga, Pelvic Floor Yoga
Jenn has helped people with a variety of experiences such as:
Plantar Fasciitis
Knee & Hip Osteoarthritis
Diastasis Recti
Pelvic Organ Prolapse
Fibromyalgia
Migraines
Shoulder Impingement
SI Joint Pain
Sciatic Pain
Irritable Bowel Syndrome
Connective Tissue Disorders – hEDS, JHS
Urinary Incontinence
Tendinopathy/Tendonitis
Anxiety
Insomnia
Fatigue
Tight or Sore Muscles
Difficulty with Proprioception & Finding Certain Movements
Difficulties with Balance
What is Yoga Therapy?
The International Association of Yoga Therapists (IAYT) defines yoga therapy as the "specific application of yogic tools – postures/exercises, breathwork, meditation techniques, and more – to address an individual's physical, mental, and emotional needs.
Yoga therapy offers a holistic approach that sees the individual as a whole person. Yoga therapy uses the Pancha Maya Kosha Model to acknowledge the many interacting layers of our mental, emotional, physical, and spiritual selves.  In science the biopsychosocial (+spiritual) model also acknowledges different interacting aspects of the whole person.  Both of these models show us that we can have an impact on any aspect of ourselves through any other aspect of ourselves. 
Yoga therapy can give you the tools and the confidence to take an active role in your personal health and well-being.